Yoda and Jar Jar Parallel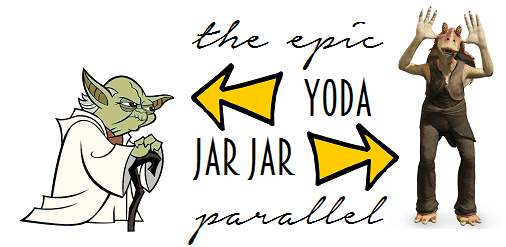 This is from Redditor MhuzLord:
According to the theory, Jar Jar is the evil equivalent to Yoda in Empire Strikes Back, an extremely powerful Force user playing the fool. I've taken a look at Jar Jar in Phantom Menace and Yoda in his first scene in Empire; there are very interesting similarities.
Making a mess
When Yoda first meets Luke Skywalker, he finds his way into the young Rebel's supplies, and starts "making a mess". Luke takes one piece of equipment from him, and Yoda keeps rummaging around and throwing stuff all over the place.
When Jar Jar "meets" Anakin (they barely interact in that scene), Qui-Gon Jin takes some electronics away from him before walking away to negotiate with Watto, and Jar Jar keeps going around the shop.
Interesting similarities. With Lucas' "rhyming" motif in mind, you can observe Yoda and Jar Jar's identical behaviours towards technology and conclude that Jar Jar, much like Yoda, is playing the fool and hiding just how smart he actually is.
Messing with R2-D2
In the same Empire scene, Yoda meets R2-D2, and ends up beating the droid with his cane. Again, Yoda is pretending to be an old alien fool and that's why he goes to the trouble of antagonising a droid.
When Jar Jar meets R2-D2, it's the droid who antagonises Jar Jar, and Jar Jar acts like he's very offended by R2's "wudeness".
Similar reactions to R2-D2's teasing in both cases. We know that Yoda doesn't really care about the torch he's stealing from Luke, he's just keeping up his fool act. Does Jar Jar really care about R2 bumping into him while he's going outside to save the ship?
Getting help from the Skywalkers
There is something else about these scenes. So Yoda gets into a bit of a fight with R2-D2 over a lamp. Who intervenes? Luke Skywalker, who gets R2-D2 to let go, and then follows Yoda home for a nice home-cooked meal.
And in Watto's shop, it's Anakin Skywalker who tells Jar Jar how to deactivate the pesky little droid; later, they all go to Anakin's home for a nice home-cooked meal.
So here we have interesting parallels between Jar Jar in Episode I and Yoda in Episode V. Very similar scenes, for very similar characters?